Hordes & Heroes Wargames Rules
Hordes & Heroes Medieval is designed as a fast play tabletop historical wargame, which uses hexagon marked terrain as a precise and effective method for moving troops. The rule system is simple and easy to learn, yet sophisticated enough to allow "realistic" battles to be fought between a diverse range of medieval armies. It is easy to play, but more difficult to master.

One A4 Quick Reference Sheet is sufficient to contain all the information necessary to play. The Combat Results Tables can be printed or photocopied, cut and pasted together as required. The main rules need only be consulted when players are learning the rules, and occasionally thereafter, to clarify situations as they arise.

The precision of the movement system and the speed and efficiency of the combat system ensure that the game flows quickly and even a closely fought contest between two armies of 150 points can be concluded within 1½ hours to 2 hours.

The game is designed to be played on modular hex terrain which can accommodate a range of different terrain features, e.g. open ground, hills and slopes, rivers, woods, impenetrable terrain etc. Larger terrain features can extend over a number of adjacent hexes. The terrain is an extremely important aspect of the rules, in that, it is of great strategical and tactical significance because of the way it influences movement, Command and Control, and combat.


Hordes & Heroes Medieval is available FREE to download.
Alternatively you can buy a digitally printed copy (A4, 28 pages, full colour), for £5.00 plus P&P
Hordes & Heroes Medieval Rule Book

HHM

HHM Rule Book

£5.00

Out of Stock
A selection of Dice and Counters suitable for use with Hordes and Heroes Medieval and other wargames rules!
Click here to download your FREE copy of HHM
Click here to go to the Hordes and Heroes Medieval (HHM) Support
HHM Army Lists
The HHM army lists are designed to enable any medieval historical army to be represented on the table top, in a miniature game, up to an agreed point value. We have endeavoured to make the lists as flexible as the historical sources which were consulted would permit. Hordes & Heroes Medieval Army Lists currently contain 28 different armies which can be easily modified and adapted to your own specific preferences or requirements, for use in a particular game, or to form part of an historical campaign.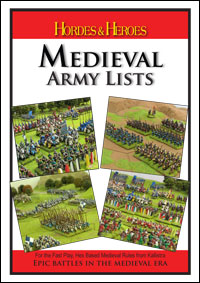 The HHM Army lists are also available FREE to download.

Click here to download your FREE copy
Quick Reference Sheet Generator
The Quick Reference Sheet Generator allows you to produce a Quick Reference Sheet (QRS) for your two select armies and print all the nessessary information including the Combat Results Table on one sheet of paper. so you just, Click, Select and Print! Click here to get your QRS

Battle Reports
Many battles have been fought in the development of HHM, the battle of Crecy being just one of them, Click on the image below to read the Battle of Crecy 1346, Battle Report. More battle reports can be found here

Hordes & Heroes Miniatures
are 12mm scale. The H&H Historical Miniatures are designed and manufactured in the UK. Cast in lead free pewter to the highest standards. Figures are mostly strip mounted to facilitate ease of painting and mounting onto the precision moulded brown plastic supplied bases* Figures are supplied unpainted and some models may require assembly.(*with the exception of Command and a few accessory packs). Each blister makes up one unit for use with Hordes & Heroes Medieval. You can download a H&H Catalogue in pdf. format just click here to go to the downloads page.